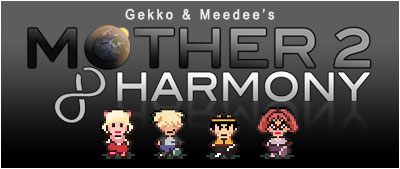 Mother 2: Harmony was the first Mother series comic we created. It began in June 2009 and ran until May 2010, coming close to 200 pages. All of its pages are hosted on
Starmen.net
Harmony was designed to bridge the gap between Mother 2/Earthbound and Mother 3. It is divided into several stories, with the largest weighing in at 80 pages. The main story and the other big one, The White Ship, contain important plot elements that will become relevant to Memoria.
You can still enjoy Memoria without checking out Harmony, but it will add to the story and is a wonderful read through on its own right. Altogether, it is still a much shorter series than Memoria will be, and you could probably read through all of it in a day.
Click below to visit the Harmony home page. You can also see artwork, sketches, fan art, scripts, and a whole lot more. And like Memoria, knowledge of the series it's based on isn't required to enjoy the story. It's written for everyone—not just us crazy Mother fans.
Visit M2: Harmony Home Page
You can now download the entire series by clicking on the image below!